Welcome
My research interests are investigating the mechanisms of vascular disease development and progression using specific cell-targeting agents and to develop novel treatments with these reagents. The current focus of my research is developing cell-specific RNA ligands (aptamers) specific for vascular smooth muscle cells to inhibit migration and proliferation of these cells. My long term goal with the smooth muscle cell aptamers would be to use these reagents within drug eluting stents (DES) to improve stent efficacy and safety. Future efforts will be to expand upon RNA aptamer bioinformatics approaches during aptamer discovery and extend studies towards other areas of cardiovascular disease. These areas would include, but are not limited to:
Developing novel aptamer bioinformatics algorithms and establish these algorithms as user-friendly tools that enhance aptamer identification and optimization; and
Developing heart-targeted RNA aptamers to study and treat heart failure and cardiac arrhythmia.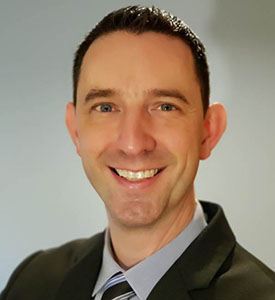 William Thiel, PhD
Research Assistant Professor
Dept. of Internal Medicine
Recent Publications
Optimization of RNA Aptamer SELEX Methods: Improved Aptamer Transcript 3'-End Homogeneity, PAGE Purification Yield, and Target-Bound Aptamer RNA Recovery. Narayan C, Veeramani S, Thiel WH. Nucleic Acid Ther. 2021 Nov 10. doi: 10.1089/nat.2021.0060. Online ahead of print. PMID: 34757856
RNA inhibitors of nuclear proteins responsible for multiple organ dysfunction syndrome. Urak KT, Blanco GN, Shubham S, Lin LH, Dassie JP, Thiel WH, Chen Y, Sonkar VK, Lei B, Murthy S, Gutierrez WR, Wilson ME, Stiber JA, Klesney-Tait J, Dayal S, Miller FJ Jr, Giangrande PH. Nat Commun. 2019 Jan 10;10(1):116. doi: 10.1038/s41467-018-08030-y. PMID: 30631065
Delivery of Cell-Specific Aptamers to the Arterial Wall with an Occlusion Perfusion Catheter. Udofot O, Lin LH, Thiel WH, Erwin M, Turner E, Miller FJ Jr, Giangrande PH, Yazdani SK. Mol Ther Nucleic Acids. 2019 Jun 7;16:360-366. doi: 10.1016/j.omtn.2019.03.005. Epub 2019 Mar 23. PMID: 30986697
E-C coupling structural protein junctophilin-2 encodes a stress-adaptive transcription regulator. Guo A, Wang Y, Chen B, Wang Y, Yuan J, Zhang L, Hall D, Wu J, Shi Y, Zhu Q, Chen C, Thiel WH, Zhan X, Weiss RM, Zhan F, Musselman CA, Pufall M, Zhu W, Au KF, Hong J, Anderson ME, Grueter CE, Song LS. Science. 2018 Dec 21;362(6421):eaan3303. doi: 10.1126/science.aan3303. Epub 2018 Nov 8. PMID: 30409805
Galaxy Workflows for Web-based Bioinformatics Analysis of Aptamer High-throughput Sequencing Data. Thiel WH. Mol Ther Nucleic Acids. 2016;5:e345. doi: 10.1038/mtna.2016.54.
AFBI assay - Aptamer Fluorescence Binding and Internalization assay for cultured adherent cells. Thiel WH, Giangrande PH. Methods. 2016 Jul 1;103:180-7. doi: 10.1016/j.ymeth.2016.03.005. Epub 2016 Mar 10.
Smooth Muscle Cell-targeted RNA Aptamer Inhibits Neointimal Formation. Thiel WH, Esposito CL, Dickey DD, Dassie JP, Long ME, Adam J, Streeter J, Schickling B, Takapoo M, Flenker KS, Klesney-Tait J, Franciscis Vd, Miller FJ Jr, Giangrande PH. Mol Ther. 2016 Apr;24(4):779-87. doi: 10.1038/mt.2015.235. Epub 2016 Jan 6.
Analyzing HT-SELEX data with the Galaxy Project tools--A web based bioinformatics platform for biomedical research. Thiel WH, Giangrande PH. Methods. 2016 Mar 15;97:3-10. doi: 10.1016/j.ymeth.2015.10.008. Epub 2015 Oct 23.
Cell-internalization SELEX: method for identifying cell-internalizing RNA aptamers for delivering siRNAs to target cells. Thiel WH, Thiel KW, Flenker KS, Bair T, Dupuy AJ, McNamara JO 2nd, Miller FJ, Giangrande PH. Methods Mol Biol. 2015;1218:187-99. doi: 10.1007/978-1-4939-1538-5_11.
Phosphorylation of Nox1 regulates association with NoxA1 activation domain. Streeter J, Schickling BM, Jiang S, Stanic B, Thiel WH, Gakhar L, Houtman JC, Miller FJ Jr. Circ Res. 2014 Nov 7;115(11):911-8. doi: 10.1161/CIRCRESAHA.115.304267. Epub 2014 Sep 16.